This post may contain affiliate links, which help us generate revenue so that we can keep producing awesome content for you. We want to thank you from the bottom of our hearts for using our links and giving us the opportunity to share a sliver of this great big world with you.
Cyber Monday is here, and if you've been putting off getting your web hosting, email marketing service, online course, or other product that will help you develop your blog and boost your income, you can pat yourself on the back for procrastinating, for once. The deals below are some of the lowest I've seen, and I'm honestly a little sad that I already have everything I need already and can't take advantage of these deals. Here are my top 7 blogging tools that every blogger needs, plus some Cyber Monday specials, too.
Deal: 75% off all hosting plans
If you don't yet have a self-hosted website (i.e. if your blog or website URL is still myawesomeblog.wordpress.com), you need to take advantage of this massive sale and get self-hosted with SiteGround this weekend. Having a self-hosted site gives you so much more credibility with your readers and makes you look like you take your blog seriously. Because after all, if you don't even take your blog seriously, how do you expect others to take it seriously? After testing out pretty much all the big name hosting providers in the last 10 years or so, we've landed on SiteGround and haven't looked back. Our site has never crashed with SiteGround (compared to regular and frequent crashes with our previous host, BlueHost), and their support has been a life saver for two non-techy people like us. Read our step by step guide to setting up your blog with SiteGround, or click here to take advantage of SiteGround's 75% off plans today.
Ah, the age-old debate: WordPress or Blogger or Squarespace or Wix or… you get the idea. I won't bore you with the details of why WordPress is the far superior option (read this post if you want to know why WordPress is the best), but in short, WordPress provides the most optimal SEO capabilities and is the most versatile of the bunch. After all, what's the point of writing posts that will never get picked up by Google, aka read, right? Click here to create your WordPress account today.
Deal: Free 30-day trial
If you haven't started building an email list yet, get on that ASAP. While many bloggers speak highly of ConvertKit and MailChimp, we prefer a much simpler and more affordable option: GetResponse. GetResponse allows you to schedule out newsletter, email campaigns, and integrate with popular services like Clickfunnels so that you don't need to sit in front of your email all day but can plan ahead for the week, month, or quarter. You can also create landing pages on GetResponse, which is a great option for those who don't want to spend the extra money on ClickFunnels. Start building your email list today with GetResponse.
Deal: Free 14-day trial
While GetResponse landing pages are a great option for those who are cash-strapped, you should try to upgrade to ClickFunnels as soon as you can if you're trying to sell a product or service through your blog. Sales funnels are one of the best ways to get eyes on your product if you lead with an enticing low-cost or free offer, and ClickFunnels has all the functionalities you could possibly ask for in an effective sales funnel creator. Click here to sign up for a free 14 day ClickFunnels trial.
Deal: 40% off monthly and yearly plans
Keysearch is my favorite tool for conducting SEO research for my blog posts. You can share your posts on social media all you want, but at the end of the day, if people can't find your blog through organic Google searches, you'll be hard pressed to grow your blog beyond a certain number of readers. That's why it's so important to conduct SEO research before writing your posts to ensure that you are utilizing keywords to the best of your ability and that there is a high likelihood that your post will be found through Google searches. It's a pretty simple and straightforward tool to use, but in case you're feeling intimidated by all the abbreviations and columns of numbers, Keysearch provides tutorial videos and a support team to help answer any questions you have.
A lot of people assume that I (and bloggers in general) all have secret design skills because of the graphics we create on social media and on our blogs. However, the truth is we just have Canva. Canva lets you design images for all your social media platforms with preset canvas sizes, icons, shapes, logos, and fonts, so all you have to do is upload an image and some font, and you've got yourself a well-designed graphic! I use Canva to design all my social media graphics and even my infographics and e-books. Click here to check out Canva for yourself today.
What are you going to do with all those beautifully designed graphics if not throw them on Pinterest, the #1 visual SEO platform, and drive some traffic to your blog? That's where Tailwind comes in as one of the handiest tools I've used as a travel blogger. With Tailwind, you can schedule your pins out in advance, so you're not sitting behind your computer pinning graphics all day. Tailwind also helps you find your optimal times for posting, which takes the guesswork out of determining whether to post at 7am or 2pm or 8pm every day. And, with its newest launch, you can now schedule out posts on Instagram as well. Click here to get started with Tailwind for free.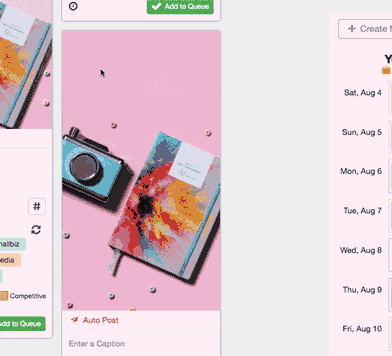 Deal: Get $49 in freebies when you upgrade
As your blog grows, you'll probably begin to think about product offerings. Whether you decide to sell t-shirts, online courses, or home-made goods, Podia is the all-in-one platform that not only lets you set up shop online affordably, but also makes it super easy for you to do so. All you need to do to customize your site is input your brand colors and images you choose, and the rest will be taken care of for you. Best of all? You get to keep 100% of the money you make. Take Podia for a trial run for free today.
---
Like it? Love it? Pin it!